About
Zach Cotham was born and bred in heart of Texas. Thinking he had left all of that behind he then he spent the next 10 years developing work in Oakland, CA. but ultimately relocated to the benign city of Austin TX. in 2019 where he currently resides and works. His artwork ranges a variety of media including sculpture, painting, installation, and writing to engage the social-emotional complexities of contemporary urbanism. Discarded domestic objects and construction materials are repurposed in multi-sensory displays that summon the disquieting sense of place experienced by the modern subject. He earned a BFA from the University of North Texas in 2010 and MFA from Mills College in 2018.
Unearthed video pt 2 of 2 Contributing artists include: @thewind.in.thetrees @shood____ #christineferrouge @laurajoycedavis @aimeesuzara @daveyoungkim @francis_baker_studio @katieswanarts film by @adamentia
Unearthed video pt 1 of 2. Thank you @adamentia and East Bay Films for the video! Contributing artists include @daveyoungkim @katieswanarts @aimeesuzara @laurajoycedavis #christineferrouge @thewind.in.thetrees @shood____ @francis_baker_studio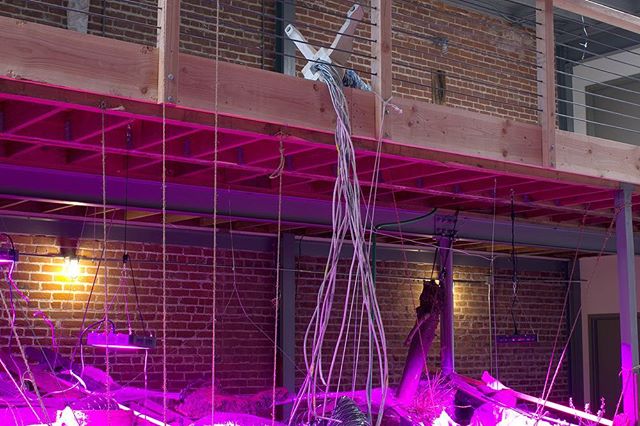 Here are some images of my installation "Transplants" for the Unearthed show back in September. It was certainly a community effort to assemble this strange floating irrigation system, which was fed by the building's water supply. With it I attempted to nurture transplanted plant life from the surrounding area and create a cyclical closed system to sustain it. I never quite worked out all the kinks but I am satisfied with the results. This is my comment on the pursuit to flourish amidst outstanding social fractures in Oakland that specifically include displacement and inequity under a corrupt system that directly oppress the poor and pushes those already at the margins further from opportunity. What type of support system do we erect for ourselves and as a collective simply to survive? How do we flourish and create space where others may flourish? Are not our aspirations to to do so the very catalyst that can see us through harsher realities? I certainly hope so. In the 10 years living here I've constantly been wowed by the efforts of citizens to carve out space for flourishing despite economic woes. There are too many to count, but to name just a few: Oakland superhero's mural project, the attitudinal healing center, east bay arts alliance, creative growth, youthspeaks, agencies that combat child sex trafficking, the many non profit volunteer based after school programs. It is uncanny that this small project we put together could be in such close proximity to the Black Panther Community Garden, an organization that is the source of many of these types of grassroots efforts. I am grateful for the perspective I've been given to see people effect real change through their actions. Thank you, @shood____ for helping me gather materials from the neighborhood, @katieswanarts for helping me fortify dirt into soil and growing clover; Christine Ferrouge for the glass bottles and for co-curating the show, Brianna Saldivar for helping to relocate some of the material to the garden next door. Thank you also the other artists for making this such a fulfilling experience. Y'all are incredible! @laurajoycedavis @francis_baker_studio @thewind.in.thetrees @daveyoungkim
Recently, I was offered the opportunity to organize a show at a space near the corner of Grand and San Pablo in Oakland. With close to 2000 sq ft of completely clean, unused space, this was a dream come true. However, we only had two weeks to produce the show. Setting quickly to work, I teamed up with lots of amazing artists, connected with folks on Craigslist, and cruised the streets of West Oakland is search of raw material The results are in. I think we've created something that communicates the experience of seeking to flourish in Oakland. This was a team East Bay effort to be sure and I can wait to share it with you!